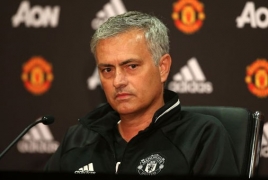 November 22, 2017 - 10:31 AMT
PanARMENIAN.Net - Manchester United boss Jose Mourinho has addressed the media in Switzerland ahead of the Reds' Champions League tie at Basel on Wednesday, November 22.
The manager was asked about Henrikh Mkhitaryan's exclusion on Saturday against Newcastle and replied: "There is always a question about someone who is not playing or is not in the best form. There are no questions about Anthony Martial and no questions about Chris Smalling.
"There are always questions about somebody in a certain moment, a certain match and a certain period that didn't play. The story is always the same. In some positions, when you don't have injuries, you have lots of options in other positions. In this moment, we have Pogba, Marouane Fellaini, Ander Herrera, Nemanja Matic and Scott McTominay so I can imagine, next week, you are going to ask - why is this player not playing?
"Micki is not playing because we had lots of options for that match. I decided to play Marcus Rashford and Martial together. For many weeks, the questions was - why do they not play together? Now the question is why is Micki not playing. The answer is very simple - until the international board change the rules, I can only start with 11!"
Mourinho rested the former Borussia Dortmund man for their 4-1 home win over Newcastle on Saturday evening.