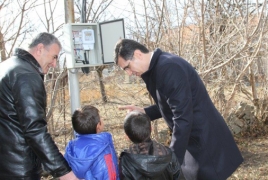 November 22, 2017 - 12:13 AMT
PanARMENIAN.Net - The Alternative Energy Project continues to encompass new communities. Owing to the project implemented in 2 stages within a year, another village in Armenia's Lori province has been illuminated. The partnership of the Foundation for the Preservation of Wildlife and Cultural Assets (FPWC) and VivaCell-MTS yields fruitful results.
In the autumn of 2016, a system with 54 outdoor illumination LED lights was installed in the village of Amrakits village of Gyulagarak community of Lori. In the first stage of the project, the two main streets of the community were illuminated. In autumn of the current year, 56 more LED lights were installed illuminating another 2 km long territory. As a result of the second stage of the project the whole territory of Amrakits is now illuminated.
VivaCell-MTS General Manager Ralph Yirikian, the FPWC founder Ruben Khachatryan, the administrative head of Amrakits Artur Nerkararyan and village residents took part in the launch of the energy efficient system.
"Every time I visit a community, I'm impressed by people's shining smiles. If we want to change the lives of our compatriots aiming to make it better, we have to set key goals and solve the problems without murmuring. I want to believe that the lightened streets in this village will not only change the outdoor appearance of village but will also serve as an incentive for the people," said Yirikian.
The use of environmentally friendly and energy efficient LED lights is economically beneficial for the community as the system will reduce energy consumption by 80%.
The streets of the village will be illuminated from 21:00 till 00:00 in summer, and from 18:00 till 23:00 in winter. During holidays illumination will be provided for the whole night.