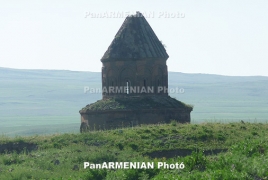 November 25, 2017 - 14:49 AMT
PanARMENIAN.Net - The contrast of majesty and isolation of theArmeniancity of Ani, which has been on the territory of modern Turkey since 1920, is the subject of a new article byTurkish newspaper Daily Sabah, in which the paper provides reasons for visiting the ancient and magnificent capital of the old Armenian Kingdom.
According to the publication, travelers can feel the rush of discovery if they take a flight out to Kars, and then a two-hour drive out to Ocakli village near the Armenian border, and then walk up the hill, where you'll find a lost city to discover.
Ani used to be a capital city of the Armenian kingdom in the 11th century.
"Its wealth and architecture rivaled Byzantine's Constantinople (modern day Istanbul). With a population of more than 200,000 at its peak, it was larger than both London and Paris at the time. It had a huge castle, battlements, a defensive wall, a thousand churches, 40 gates, and a thriving economy, and now, all that's left are its abandoned ruins on a high plateau. A stone bridge down in the gorge across a river, half collapsed. A guttered cone atop a brick church. The domes and arches of a sanctuary, fallen-in and exposed to the air. A cathedral with sturdy walls, covered with still-visible Armenian inscriptions, but with exposed, broken masonry. Walls and a gate no longer protecting anything. Emptiness," the article says.
The contrast strikes you immediately: This must have been a magnificent city in its day, and yet today, this is the middle of nowhere and nobody lives here. Ani still has a lot of things standing, including some half-crumbled churches, towers, and a wall. It's wonderful to see such amazing stone architecture of a forgotten empire, and even better is that almost nobody goes there. On a really busy day, there might be eight other tourists.
The article then goes on to cite various authors, diplomats, military officials who were captivated by the beauty of the age-old Armenian city.