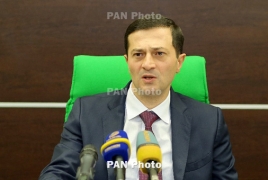 November 29, 2017 - 18:14 AMT
PanARMENIAN.Net - The increase of the minimum capital of banks by the Central Bank has resulted in positive developments which contributed to the rise in consolidation and efficiency in Armenia's banking system and brought a certain amount of money to the country, Ameriabank's director for retail operations Arman Barseghyan told an online press conference on Tuesday, November 28.
As a result, he said, a surplus of capital and the need for liquidity emerged in the banking system, which influenced interest rates.
"The minimal increase in total capital reduced interest rates, and the CB's demand was among the factors of decline in recent months," Barseghyan said.
According to Barseghyan, despite the positive impact of the Central Bank's decision, the minimum amount of capital could be increased gradually.
"Perhaps it would be better to have a certain timetable of capital increase so that the interest rates would decline gradually, eliminating drastic short-term changes," he said.
In 2015, the Central Bank decided to raise the minimum amount of the banks' total capital to AMD 30 billion from January 1, 2017 against the AMD 5 billion drams at the time. According to the CB, the measure is aimed at encouraging mergers and consolidation of banks, which is expected to create a sound competitive environment and make banking services more available.