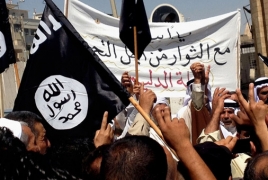 December 1, 2017 - 13:51 AMT
PanARMENIAN.Net - The Islamic State released a 55 minute long video on Thursday, November 30 that showed militant forces carrying out several executions accompanied with some old battle footage, Al-Masdar News reports.
The first 24 minutes of the video began with the Islamic State showcasing old battle footage from Palmyra when they captured the city from the Syrian army.
Following the footage of Palmyra, the militant group showcased their ambushes in both Egypt and Iraq, claiming they overran several military posts.
The last 15 minutes of the video were of the Islamic State's militants carrying out heinous executions of Iraqi and Syrian soldiers.
The first executions were of ten Iraqi soldiers in the western part of the country; these soldiers were brutally murdered by the militant group.
After the Iraqi executions, IS showed the execution footage of a Syrian fighter pilot that was captured in April 2016.
The pilot, 'Azzam 'Eid of Salamiyah, was burnt alive after being chained at the neck by the militant group.
The video would conclude with IS executing three more Syrian Army and Iraqi military personnel and then declaring victory over their enemies.
IS often releases these type of videos after they suffer a major defeat.