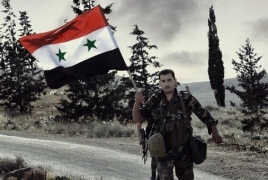 December 1, 2017 - 18:13 AMT
PanARMENIAN.Net - The Syrian Arab Army has made final preparations in southeast Deir ez-Zorahead of launching a final assault to eliminate the Islamic State (IS) from the province, Al-Masdar News reports.
Led by their Al-Taha and Al-Tarmeeh groups, the Tiger Forces have positioned themselves just south of Al-Asharah, which is located along the western bank of the Euphrates River.
The Tiger Forces are expected to start the last battle against the Islamic State in the coming days, but in the meantime, they are allowing the Russian Aerospace Forces to heavily bombard the group's last areas in Deir ez-Zor.
While the Tiger Forces prepare to liberate the entire western bank of the Euphrates River, the U.S.-backed Syrian Democratic Forces have already began their operation to capture the Islamic State's last positions along the eastern bank.
With the two operations in Syria and another one conducted in Iraq, the Islamic State is likely to be expelled from the Euphrates River Valley by year-end.