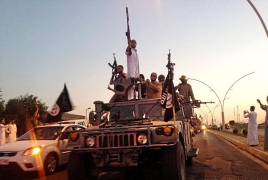 December 8, 2017 - 11:42 AMT
PanARMENIAN.Net - Thousands of Islamic State (IS) militants are now trapped inside the Syrian Desert after being expelled from the western bank of the Euphrates River, Al-Masdar News said citing military source in Damascus on Friday, December 8.
According to the Syrian military source, the Islamic State has moved most of their forces to this vast desert region in the western countryside of Deir ez-Zor, as they anticipate losing the eastern bank of the Euphrates and their last pocket in Iraq.
The IS forces are now confined to a 7,200 square kilometer area in western Deir ez-Zor that has limited resources, while also being a prime target for airstrikes.
From this large pocket, IS will likely wreck havoc on the Sukhnah-Deir ez-Zor Road in order to constantly force the government to close this highway.