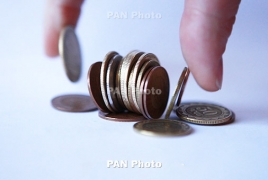 December 12, 2017 - 14:38 AMT
PanARMENIAN.Net - Armenia's economy is set to expand by 5.8% in 2017 and grow further by 3.8% and 3.6% in the following two years, a new report by the United Nations revealed, citing vibrant economic activity indicators reported by the country.
In its previous forecast, the UN had predicted a 2.7% GDP growth for Armenia in 2017 and a further 3% increase for 2018.
The recovery of remittances from Russia is contributing to the acceleration of economic activity in Central Asia and the Caucasus. In Armenia, the economy has bounced back strongly, amid rapid industrial growth and higher copper prices, the report titled World Economic Situation and Prospects 2018 said.
Meanwhile, Azerbaijan's economy will decline by 1% in 2017, while Russia's and Georgia's will grow by 1.8% and 4.8%, respectively.
Eurasian Development Bank's economic growth outlook for Armenia in 2017 stands at 5.2%; the World Bank forecasts a 3.7% GDP growth; the International Monetary Fund expects the country's economy to expand by 3.5% in 2017.
The Asian Development Bank in late September raised its growth forecast for the Armenian economy to 3.8% in 2017, while the EBRD is expecting a 2.5% GDP growth for the country.
Armenia saw just a 0.2% economic growth in 2016. Initially, the government forecast a 3.2% growth for 2017, but revised for a better picture later in the year.