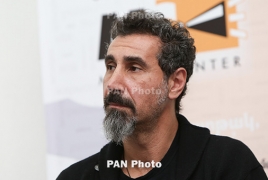 December 21, 2017 - 11:36 AMT
PanARMENIAN.Net - Late Soundgarden frontman Chris Cornell consulted Armenian-American singer-songwriter Serj Tankian to make sure he got the tone right for his last solo track "The Promise", which he composed for a feature film of the same name, the Rolling Stone said in an interview with Tankian.
"We were both friends with [producer] Eric Esrailian, and we were both giving him advice on the music. He was asking for support. So Chris and I became closer as friends because of "The Promise", Tankian, who is the lead vocalist of System Of A Down band, explained.
"At one point, I think they wanted us to do the main theme music together, and then they realized they were going to need two end tracks. So he did the title track, and I did this beautiful, classical-jazz rendition of an old Armenian folk song called 'Sari Siroun Yar.' But he sent me an email and he goes, 'What do you think?' And I loved it. I told him, "It's really emotional and you're bringing everything out." He made a great connection in the song. The most important thing to realize about the Armenian Genocide is not just what happened 100 years ago, but how it's relevant today, because that shit's happening now. That's what he did with the song; he made that connection. I was really grateful for that."
"And I'm a huge fan of Soundgarden and Chris Cornell, growing up. And he knows that [laughs]. We became friends, but I've still always been his fan, you know? So his support on the film was incredibly important," he added.
"The Promise" is one of 70 songs eligible to be nominated for Best Original Song at the 2018 Oscars.
Cornell has also been nominated for a Grammy Award in the Best Rock Performance, as well as a Satellite Award in the category of Best Original Song.