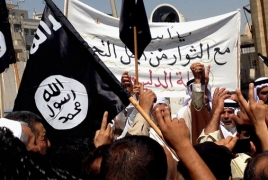 December 21, 2017 - 11:52 AMT
PanARMENIAN.Net - Coalition-led forces operating in the east Syrian province of Deir ez-Zor have suffered a big defeat at the hands of the Islamic State group following a days-long offensive which failed to break through jihadist defenses, Al-Masdar News says.
Almost one week ago, opposition and pro-Kurdish sources claimed that US-backed forces in eastern Syria had captured the rump of the strategic Shaitat tribal region from IS including the key town of Abu Hardub.
In the event, although pro-Coalition fighters attacked Islamic State positions throughout Shaitat tribal region with great force including air support, the group was able fully repel the assault after days of savage battles.
Local sources from the Shaitat tribal region have confirmed that IS remains in control of the area, including the town of Abu Hardub.
Additional reports have surfaced which suggest that a veteran Islamic State-affiliated battle group is operating in the Shaitat tribal region, the Ansar al-Islam brigade.
Although IS has won the first round of clashes for the Shaitat tribal region, there can be no doubt that sooner or later, US-backed forces will make another push, this time with even more men and firepower.