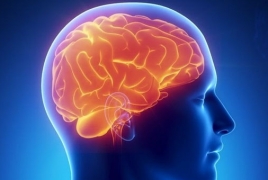 December 25, 2017 - 13:38 AMT
PanARMENIAN.Net - Researchers at Leonard Wolfson Experimental Neurology Centre in London have tested an experimental drug that safely reduced the toxic proteins in the brain that cause Huntington's, Times News says.
Though more research needs to be done, this finding has doctors feeling optimistic that the progression of the disease could be slowed or even stopped in some patients.
"It's fascinating," said Alana Cozier, a neurohospitalist with Wellmont Medical Associates. "It has the potential to be life-altering for people who have Huntington's and people at risk, also."
Cozier describes Huntington's as a "progressive, inherited neurodegenerative disorder." In simpler terms, this means the disease is passed down from parent to child, and it causes nerve cells in the brain to degenerate and die over time. Other neurodegenerative disorders include Alzheimer's and Parkinson's.
The experimental drug was tested on 40 people via a lumbar puncture, or spinal tap. After injecting the drug into each person's spinal fluid, researchers then took samples of the fluid and measured the amount of Huntington's disease-causing proteins that were present.
Researchers found that after administering the drug, the amount of toxic proteins in a patient's spinal fluid had decreased. Patients who received the highest dose of the drug experienced the greatest decrease in toxic proteins, Cozier said.