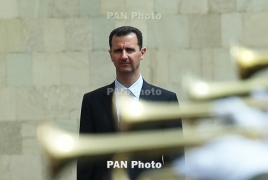 December 28, 2017 - 11:01 AMT
PanARMENIAN.Net - There can be no doubt that Syrian President Bashar al-Assad is either reluctant or incapable of defeating the Islamic State terrorist group within the borders of the country he governs according to Major General Felix Gedney of the British Army, Al-Masdar News reports.
On Wednesday, December 27, Fox News-affiliated sources quoted Gedney of the British Army, a key overseer of the US-led Coalition's anti-IS efforts in Syria, saying that the Syrian government was 'clearly unwilling or incapable' of defeating Islamic State forces within its own borders.
According to the British general, the fact that IS fighters can transit from the western shore of the Euphrates River to the eastern bank with 'impunity' is case-closed proof of this.
Gedney's comments come just around two weeks since Islamic State militants crossed from the eastern shore of the Euphrates (the Coalition's area of responsibility) to the west bank, capturing a number of villages which had been liberated by Syrian army-led forces.
It would take a week before the Syrian Arab Army reclaimed the settlements from the terrorist group – no assistance was provided by the Coaltion.
Syrian army-led forces are not allowed to pursue IS across the Euphrates to its eastern shore due to endless threats over the past year by the so-called 'anti-IS coalition' that it will attack government troops if they so do.