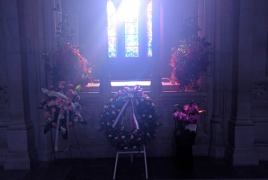 December 29, 2017 - 11:54 AMT
PanARMENIAN.Net - The Armenian embassy in the United States paid tribute to the the 28th U.S. President Woodrow Wilson on his 161th birthday at the Washington National Cathedral on Thursday, December 28 morning.
"President Wilson played a special role in the Armenian history for saving refugees and orphans after the Genocide and arbitrating the boundary between Armenia and Turkey in 1920," the embassy said in a tweet.
During a special service at the cathedral, a ceremonial laying of wreaths on Wilson't tomb was held in Washington, with the public and diplomatic missions joining the the U.S. military services on the occasion of the anniversary of Wilson's birth.
President Wilson extended his moral support for the efforts of the Near East Relief organization during the Armenian Genocide by dedicating two days in October 1916 for a nationwide fundraising drive.
Under the Treaty of Sèvres, as drawn by U.S. President Woodrow Wilson's Department of State, Armenia's boundaries would incorporate the Ottoman vilayets of Erzurum, Bitlis, and Van, which once had Armenian populations of varying sizes.