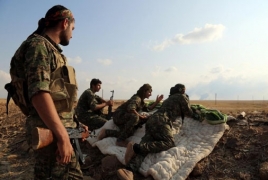 December 29, 2017 - 12:05 AMT
PanARMENIAN.Net - U.S.-backed forces (of which Kurdish units represent a core component) have made serious advances in the last 24 hours amid an ongoing offensive operation to capture all remaining Islamic State-held towns and villages along the eastern shore of the Euphrates River and reach the Syrian-Iraqi border near the strategic city of Abu Kamal, Al-Masdar News reports.
On the night of Thursday, December 28 to Friday, Coalition-led forces reached the Euphrates river near the village of Al-Bahra in a move aimed at trapping IS within the heavily contested Shaitat tribal region.
Further south again, US-backed fighters reached and entered the town of Haijan, about 25 kilometers from the government-controlled Syrian-Iraqi border city of Abu Kamal, where a major battle is now developing.
So far pro-Coalition militias have managed to seize some areas inside and around Haijan but have yet to fully eject Islamic State militants from the town.