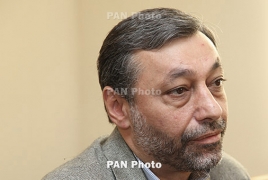 January 11, 2018 - 14:09 AMT
PanARMENIAN.Net - The European Court of Human Rights on Thursday, January 11 published its decision on the case Arzumanyan v. Armenia.
The case concerned the detention of the former Minister of Foreign Affairs and leader of a political movement called Civil Disobedience for money laundering.
The applicant, Aleksandr Arzumanyan, is an Armenian national who was born in 1959 and lives in Yerevan. He was arrested in May 2007 and placed in detention. The courts ordered his detention on the grounds of the gravity of the offence and the risk of his absconding, obstructing justice or reoffending. They then repeatedly extended his detention on similar grounds, despite Arzumanyan's objections, until his release in September on an undertaking not to leave his residence.
Relying on Article 5 § 3 (right to liberty and security / entitlement to trial within a reasonable time or to release pending trial) of the European Convention on Human Rights, Mr Arzumanyan complained that the domestic courts had failed to sufficiently justify his detention.
The Court thus awarded 2,000 euros in damages, plus 500 euros for costs and expenses.