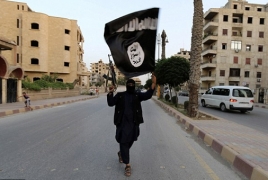 January 19, 2018 - 13:18 AMT
PanARMENIAN.Net - Following the full withdrawal of armed rebel groups from northeast Hama and southwest Aleppo provinces, the Islamic State group has filled the vacuum, sending out forces to capture the dozens of abandoned towns and villages and in doing so has de facto established a new empire – this time in Syria's northwest, Al-Masdar News says.
According to opposition sources, IS has – capitalizing on the total withdrawal of rival jihadist fighters from countryside of northeast Hama and southwest Aleppo – taken control of some thirty towns and villages in northwest Syria during the last 12 hours.
The settlements have been identified as Rasm al-Dhaba, Al-Muwaylah, Abu Ajwa, Muakar Shamali, Rasm al-Basl, Tawrat, Mushirifah, Rasm Arira, Qarat Rubua', Thaniyat al-Sawan, Zaghir, Abu Mahalah, Al-Hanin, Al-Janina, Al-Khatabiyah, Luwaybidah, Al-Jadidah, Nafha, Andarin, Al-Samaqiyah, Huma, Najm al-Zuhur, Umm Qurun, Al-Mashulkhiyah, Al-Halibiyah, Al-Salihiyah, Abu Khanadiq, Umm Aj, Malihah Saghirah and Awijat al-Qana.
Despite the huge sweep, it appears that the Islamic State's new empire in northwest Syria may very well find itself encircled by the Syrian Arab Army during the days or weeks to come, with pro-government forces now about two kilometers from linking their Aleppo front with their Idlib front and thus completely sealing off northeast Hama and southwest Aleppo, the Syrian news agency says.