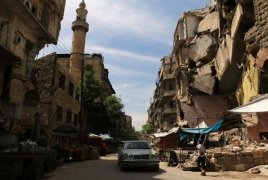 January 24, 2018 - 15:43 AMT
PanARMENIAN.Net - Official Syrian sources have confirmed that pro-government forces temporary withdrew from their border posts west of Manbij on Tuesday, January 23 only to return the next day, Al-Masdar News reports.
On Tuesday, reports began to circulate that Russian, Syrian Arab Army and National Defence Forces (national militia force) troops were withdrawing from their border positions opposite the lines of Turkey-backed rebel groups west of the city of Manbij.
On Wednesday, the official Twitter account of the National Defence Forces confirmed that Syrian and Russian troops did in fact withdraw from their border posts in the western countryside of Manbij on Tuesday but returned to them during recent hours.
No official reason has been provided for now for why Syrian pro-government forces retreated from their defenses west of Manbij in the first place.
Under an agreement between Moscow and Washington aimed a deterring Turkish aggression against Kurdish forces in northern Syria, the Syrian Army and allied paramilitary groups assumed control of towns and villages bordering rebel territory west of Manbij city in March 2017.