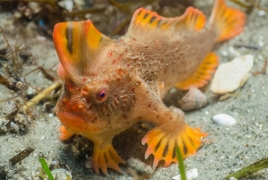 January 25, 2018 - 11:02 AMT
PanARMENIAN.Net - Diver Antonia Cooper and her research team from the University of Tasmania's Institute of Marine and Antarctic Studies and the citizen science program Reef Life Survey have found a red handfish near a reef miles off Tasmania's south-east coast, National Geographic says in an article.
After more than half of their three-and-a-half-hour search, Cooper signaled the find to the team, which allowed them to narrow down their search to a smaller area. Within a stretch of reef about the size of a badminton court, they found a total of eight red handfish.
Named for their hand-shaped fins, red handfish are benthic ocean dwellers that crawl on the seafloor with their limbs. They grow to be between two and five inches long, and they eat small crustaceans and worms. Red handfish actually come in two color variations—one a bright red and the other marked by red embellishments.
The species is easily one of the rarest fish in the world, says University of Tasmania research fellow Rick Stuart-Smith. The elusive fish were first spotted near Port Arthur on the Tasman Peninsula in the 1800s. Until now, a group of only 20 to 40 fish were known to be living on a stretch of reef near Hobart's Frederick Henry Bay.
Cooper's new find may double the known population of red handfish to an optimistic 80 individuals. There could still be other undiscovered populations out there, Stuart-Smith says.