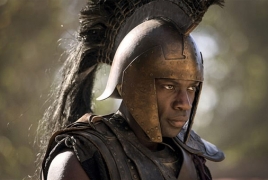 January 29, 2018 - 12:54 AMT
PanARMENIAN.Net - The BBC are teaming up with Netflix to launch a new epic series about Fall of Troy, the Daily Mail says.
The eight-part series, "Troy: Fall of a City", will tell the tale from the perspective of the Trojans' and show how Helen of Sparta came to leave her family and her husband and spark a decade-long war.
It is written by David Farr, associate director of the Royal Shakespeare Company, who recently had success in the highly regarded series The Night Manager starring Tom Hiddleston.
Bosses at the BBC are hoping their upcoming series can rival HBO's hit fantasy show 'Game of Thrones' - and initial plans reported £2million an episode to realise the ambition, placing it among the BBC's most expensive shows.
The show was first announced in 2015 as part of a new season of BBC One programmes.
David Farr said he took the twist on the old story because 'we know the Greek story so well' but 'if you look at the story from the Trojan point of view it becomes a very different tale'.
Farr, who has previously adapted Homer's Odyssey, told the Guardian he wanted to 'build an emotional relationship between the viewer and the city'.
'The Greeks are a western force on an eastern shore demanding justice and retribution, and I think that resonates particularly strongly with a modern audience.
'We can all think of images we've seen from this century and the last which might remind us of the fall of Troy' he said.
He added that his tale is not only inspired by Homer but also Shakespeare and Chaucer - but there will be new elements which he is 'entirely comfortable' with as 'these are living stories and every retelling adds another layer to the myth'.