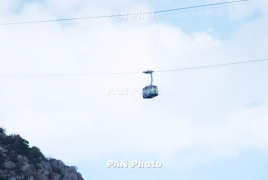 February 2, 2018 - 18:46 AMT
PanARMENIAN.Net - The UEA emirate of Ras Al Khaimah has achieved a Guinness World Records title with its latest adventure tourism product - 'Jebel Jais Flight: The World's Longest Zipline', Khaleej Times reports.
The official certification was handed over to HH Sheikh Saud Bin Saqr Al Qasimi, Member of Supreme Council and Ruler of Ras Al Khaimah, by Hoda Khachab, the official adjudicator from Guinness World Records.
HH Sheikh Ahmad bin Saud bin Saqr Al Qasimi was the first to trial the new zipline this morning, following the official certification by Guinness World Records.
Haitham Mattar, CEO of Ras Al Khaimah Tourism Development Authority, said the world's longest zipline will earn the emirate of Ras Al Khaimah considerable recognition on the local, regional and global stage and propel the destination into the major leagues of global adventure tourism."
The world's longest zipline, measuring 2.83km - equivalent to over 28 soccer fields, and spanning the chasm of Jebel Jais, the UAE's largest mountain peak at over 1,680 metres above sea level, was opened to the public on February 1, 2018.
"The Ras Al Khaimah zipline is being operated by Toroverde Ras Al Khaimah, the world's most experienced zipline managers."
Armenia is home to the longest non-stop double track cable car which has a length of 5,752m and is nestled in Tatev, Syunik province. The aerial tramway connects the village of Halidzor with the secluded medieval Tatev Monastery, offering a spectacular journey across the Vorotan River Gorge. Two cabins (each with a capacity to carry 25 people) can operate simultaneously, travelling in opposite directions.