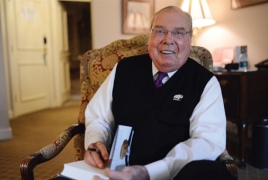 February 3, 2018 - 11:57 AMT
PanARMENIAN.Net - One of the most prominent businessmen and billionaires of the United States, Jon M. Huntsman, who was also known for his philanthropic activity focusing on areas of cancer research, programs at various universities, and aid to Armenia, died on Friday, February 2 aged 80.
The founder of Huntsman Corporation passed away peacefully, surrounded by family.
"He leaves an unparalleled legacy of good, from which generations will benefit," his family said in a statement.
Huntsman served in 37th U.S. President Richard Nixon's administration.
Later, the businessman opened the Cancer Institute in Salt Lake City, Utah, which is engaged in the research of cancer and the search for medicines. Both his parents died of cancer, and he battled four forms of it himself.
Huntsman has greatly contributed to efforts to rebuild Armenia following the devastating earthquake of 1988. He and other family members have made 46 trips to Armenia over 25 years. During one such trip, Huntsman said: "I always have a feeling that God's blessing rests with the Armenian people. I am glad and proud to be here in this great country."
Huntsman Sr.'s stepped in to help, and his assistance continued in Armenia over the years. "From the ruins of devastation, they began to rebuild. It captured my heart … to where I said, 'I have to help these people. I have to be part of it,'" Huntsman said in 2013.
Donations made by the Utah billionaire were used to build schools and hospitals,, apartment complexes, and a K-12 school in the city of Gyumri which .
His family also provides scholarships to bring Armenian students to the United States to study at Utah State University.
In 2018, Armenia is commemorating the 30th anniversary of the earthquake, which leveled the cities of Spitak and Gyumri, as well as about 60 villages, leaving at least 25,000 people dead, 100,000 wounded and 500,000 homeless.
Huntsman is survived by his wife Karen and by 8 children, including their son Jon Huntsman Jr., a former governor of Utah and current U.S. Ambassador to Russia. Son Peter Huntsman is CEO of Huntsman Corp.