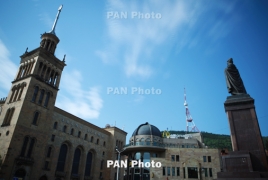 February 7, 2018 - 16:57 AMT
PanARMENIAN.Net - Georgian prime minister Giorgi Kvirikashvili said on Wednesday, February 7 that the country needs to upgrade its infrastructure to host Olympic Games in the future, Agenda.ge reports.
Kvirikashvili recalled his recent trip to Lausanne, Switzerland where he met president Thomas Bach of the International Olympic Committee.
"We discussed prospects of hosting the Winter Olympics in Georgia in the future. In early March, the President will send a group to Georgia to study the state of affairs on the ground, after which we will develop an action plan and implement it step by step," Kvirikashvili stated.
"I believe that we should aim for 2030, adopting a very important and ambitious plan in order to prepare the country for an international contest of this magnitude."
Kvirikashvili spoke about the importance of hosting the Olympics in the country, citing, among other things, employment, economic development, growth in tourist revenues.
The 2022 winter Olympics will be held in Beijing, while the city which will host the event in 2026 will be designated by the IOC in September 2019.