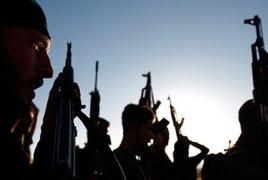 February 8, 2018 - 13:20 AMT
PanARMENIAN.Net - The avalanche of gains against the Islamic State group by the Syrian Arab Army across the northwest country's northwest shows no signs of stopping as a new assault kicked off Thursday, February 8 morning has brought eleven more towns and villages back under government control, Al-Masdar News reports.
On Thursday morning, elite assault units of the Syrian Army's Tiger Forces Division unleashed a renewed attack against Islamic State militants hide-out in Syria's northwest.
Backed by strikes from Russian and Syrian airpower as well as a hefty artillery barrage, elite Syrian troops moved quickly, driving IS from the towns and villages of Baskhun, Wadi Jahanam, Abb Khazanah, Rasem Barud, Huwayses Umm Jazan, Huwayses ibn Hadib, Hawas Muhhamed, Rasem Hammam, Abu Kanadiq (the one in northeast Hama, not south Aleppo which was liberated days ago), Rasem Tinah and Rasem Ahmar.
By this advance, the encircled IS bastion in Syria's northwest – once over one thousand square kilometers in size and comprising over 100 settlements – is almost totally diminished.
In any case, Islamic State resistance is expected to increase drastically once the Syrian Army corners the many hundreds of terrorists in the pocket down to their last few villages.