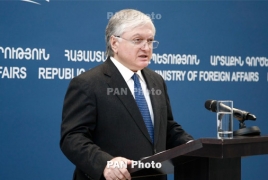 February 9, 2018 - 13:32 AMT
PanARMENIAN.Net - The killing of a Nagorno Karabakh Defense Army soldier by Azerbaijani armed forces on Wednesday, February 7 reveals Baku's blatant disregard for the OSCE Minsk Group's efforts in the process of the settlement of the conflict, Armenian foreign minister Edward Nalbandian said on Thursday.
Nalbandian was meeting the Minsk Group co-chairs - Igor Popov (Russia), Stephane Visconti (France), Andrew Schofer (USA) - and Personal Representative of the OSCE Chairman-in-Office Andrzej Kasprzyk, who have arrived in Yerevan on a regional visit.
The co-chairs briefed the minister on their meetings in Baku.
Nalbandian and the co-chairs discussed issues related to the agreement on the expansion of the capacities of the office of the Personal Representative of the OSCE Chairperson-in-Office, reached in January at the Krakow meeting of the foreign policy chiefs of the two countries.
Nalbandian drew the co-chairs' attention to the fact that Baku authorities have not made any statement so far with regards to that agreement and when they are going to implement it.
"Baku has a strange memory: being entangled in the web of its own fabricated falsifications, it forgets the agreements reached one month before and prior to that, at the same time remembering with twisted interpretations the 25-year-old documents, to which the co-chairs have not even referred to, for obvious reasons," Nalbandian said.
Informing the co-chairs about the killing of the Armenian soldier as a result of blatant violation of the ceasefire by the Azerbaijani side on the line of contact, Nalbandian underlined that even the presence of the mediators in the region does not stop Baku's provocations: Azerbaijan, according to him, demonstrates its disrespect towards the co-chairing countries.
Read also:Azerbaijan makes territorial claims against Armenia again