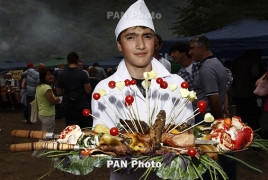 February 26, 2018 - 14:03 AMT
PanARMENIAN.Net - Back in 2014, British comedians David Baddiel and Richard Herring spend £8,000 at a restaurant in Armenia for Dave's TV series, "24 Hours to Go Broke".
Baddiel and Herring travelled to the Armenian capital of Yerevan for the opening episode of the Brewster's Millions-inspired show.
The duo were challenged to spend £8,000 in one day, and were not allowed to give any of the money away, or pay over the going rates for goods or services. At the end of each episode they must have spent all of the money but own nothing.
"One meal was an enormous blowout, at Yerevan's top eatery," Baddiel said in a conversation with The Guardian.
"It involved that coffee which comes via a cat's digestive system. It had 15 courses and Prince Charles had eaten there. I think it came to about 70 quid. At the hotel later we tried to order champagne and caviar. But they didn't have any, so they just brought us their most expensive room service item: a single portion of tiramisu."