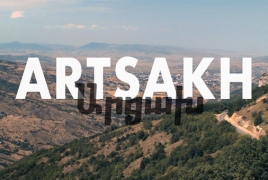 February 28, 2018 - 16:59 AMT
PanARMENIAN.Net - French-Armenian film director Arnaud Khayadjanian is readying a feature drama about Nagorno Karabakh (Artsakh), its people, the rhythm of life and much more.
Titled "Artsakh", the movie centers on universal stories, inspired by true events, with Khayadjanian paying homage to Karabakh, an emerging country.
Sometimes funny, sometimes dramatic, "Artsakh" addresses a variety of themes such as friendship, patriotism, youth, culture, family.
"It is a 'hyperlink movie' which shows many characters (around 20) telling several little stories", Paris-based Khayadjanian said in a conversation with PanARMENIAN.Net
"It's like a mosaic".
In the film, the people of Karabakh introduce themselves to the world through endearing characters, the film's description on Kickstarter says.
In 2014, Khayadjanian adapted a French play by Laura Desprein into a short film entitled "Bad Girl" which has been selected in 23 international festivals including Uppsala International Short Film Festival. The winner of the award "Uppsala Grand Prix" and the winner of the Uppsala Film Jackdaw for Best Children's Film are eligible for an Academy Award nomination.
Also, "Bad Girl" won both Vimeo Prize and Jury Prize in Sundance Channel Shorts contest.
In September 2015, Khayadjanian released "Stony paths", a documentary inspired by the story of his Armenian great-grandparents, and went on to direct his second documentary "We are our mountains", as well as the short film "Deaf hearts".
The director is now developing the short film "No more heroes" and the feature "A final burst", while the film about Artsakh will go into production next winter and will hit the big screens in 2019.