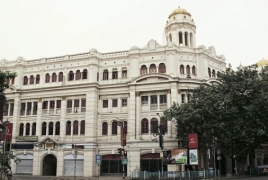 March 3, 2018 - 15:55 AMT
PanARMENIAN.Net - The foundation stone of Park Mansions in the Indian city of Calcutta (Kolkata) was laid in 1910, and like many things in the Bengali capital at the turn of the century, it was built by an Armenian, a merchant and philanthropist called Thaddeus Mesrope Thaddeus, The Hindu says in an article, detailing the Armenians' contribution to developing the historic Indian city.
When Park Mansions received a heritage status, a plaque was installed for the company managing the estate. In the four years since, nothing has been put up about Thaddeus, about the Armenians of Calcutta, the style of Armenian buildings, or even the distinct architectural features of Park Mansions.
"What is happening to Park Mansions is known as 'adaptive reuse' in urban planning language. A building conceived primarily for residential use is being refashioned for commercial and institutional use. In the process, the character of the building is changing. The interiors are being stripped away. The identity of Park Mansions is eroding," the article says.
Park Street, Calcutta's iconic restaurant and bar street, has at least three other buildings credited to Armenians. Stephen Court, which stands diagonally opposite to Park Mansions, was built by Arathoon Stephen, who also built the adjacent complex, Queen's Mansion. These three majestic mansions were conceived as residential quarters, the article says.
"A little further down the street, close to the beloved Olympia Pub, is the Masonic (Freemasons') Lodge and Hall, built by Johannes Carapiet Galstaun. Many of the city's most beloved and recognised hotels have also been built by Armenians — the Grand Hotel, the Kenilworth, the Astoria and the late Shashi Kapoor's favourite hotel, the Fairlawn," the feature says.
"The presence of Armenians in Calcutta predates the 20th century. The oldest church in Calcutta is the Armenian church on a street of the same name. The earliest grave in the churchyard dates back to 1630, says Iftekhar Ahsan, who runs one of the most popular walking tour companies in the city. The Armenian college near Park Street still accepts and educates children of Armenian origin only. Geographically, Armenia is a landlocked country, and the Armenians have been subject to invasions over the centuries. Waves of Armenians have left and settled across the world. They are among the most resourceful and successful immigrant communities worldwide."