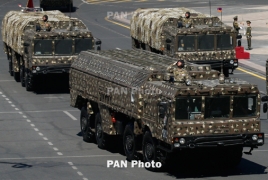 March 5, 2018 - 15:24 AMT
PanARMENIAN.Net - According to official data,Russia's export of armaments topped $16 billion in 2017, while the stable portfolio of orders amounting to some $45-50 billion overall.
Armenia has purchased a batch of the latest 9K333 Verba surface-to-air missiles and Iskander-E short-range ballistic missile systems, becoming the first known foreign customer of these complexes, New Defense Order Strategy and Kommersant reveal.
Meanwhile, Algeria became the second country to receive Iskander-E missiles, while other major customers include Turkey, Belarus, Saudi Arabia, Greece, Bangladesh, Uzbekistan and others.
While the sources make no indication of Azerbaijan, Russia is known to have sold weapons and armaments worth billions of dollars to Baku.