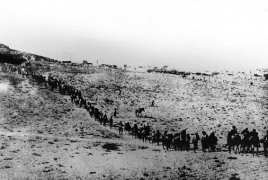 March 6, 2018 - 13:26 AMT
PanARMENIAN.Net - New Zealand governments have been constantly running scared from officially recognising the 20th century's first great crime against humanity - the Armenian Genocide.
1.5 million of the 2 million Armenian civilians living in the Ottoman Empire (now modern day Turkey) were slaughtered during the First World War.
While the purges and mass-death events were front page news in New Zealand at the time, and even witnessed by Kiwi soldiers who were captured by Ottoman forces at Gallipoli, no New Zealand government has ever officially acknowledged that the Armenian Genocide took place, and that needs to change," Newshub Reporter/Producer Tony Wright says in an opinion.
"We recognise the Jewish Holocaust of World War II, the Rwandan genocide, the Bosnian genocide, and closer to home, the East Timor genocide.
So why don't we do the same with the Armenian Genocide?", the author questions.
"The answer is simple: New Zealand's link to Gallipoli and Turkey.
"Turkey refuses to admit that the Armenian Genocide took place at all - its official line is that thousands of Armenians died in military uprisings - not as victims of ethnic cleansing.
"If a New Zealand government moved to officially recognise that the Armenian Genocide took place, then Turkey would likely threaten to ban Kiwi passport holders from visiting the old Gallipoli battlefields - or at least make the process much more difficult than it is now.
"Here are some of the 29 countries that officially recognise the Armenian Genocide: Germany, Canada, France, Russia, Belgium, Italy, Switzerland, Poland, Netherlands, Argentina, Brazil, Greece and Syria.
"In many of these countries, denial of the Genocide is punishable by a fine or even imprisonment.
"It's interesting to note that soldiers from France and Canada also fought the Ottoman forces at Gallipoli, and yet those nations still decided to stand up to Turkey and recognise the Armenian Genocide.
"So, my challenge to the Jacinda Ardern-led Government is this:
"Take a stand and officially recognise that the Armenian Genocide took place. Make it law. Teach it in Kiwi classrooms alongside other genocides like the Jewish Holocaust. Do it for peace, and as a chilling warning of what can happen during a war.
"Over 18,500 New Zealand soldiers didn't die in World War I so that foreign powers could still hold us to ransom a century later."
Some three dozen countries, hundreds of local government bodies and international organizations have so far recognized the killings of 1.5 million Armenians in the Ottoman Empire as Genocide.
Turkey denies to this day.