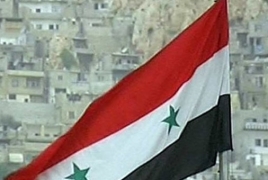 March 6, 2018 - 18:47 AMT
PanARMENIAN.Net - 1L122-1E, a Russian-made small-sized radar system,was spotted operating under the Syrian army's control in one of the extended battleground of the war-torn country, Al-Masdar News says.
Earlier, Moscow declared that it is boosting Syria's air defense capabilities in order to defend itself against hostile airstrikes.
Recently, Russia sent four 5th generation Su-57 stealth fighters to conduct temporary
The newly-deployed 1L122E small-sized radar in 1L122-1E configuration is designed for use as a radar data source for flight radar support at field and temporary airfields and for air defense needs.
Features:
1L122-1Е can be portable or mountable (mobile) on track (wheel) chassis.
Main tasks:
Detect, position, and track aircraft, cruise missiles, and unmanned aerial vehicles;
Conduct identification friend-or-foe interrogation;
Automatically transmit track data to automated control systems.