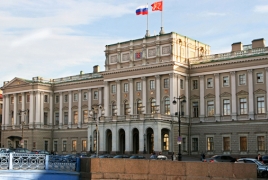 March 7, 2018 - 17:32 AMT
PanARMENIAN.Net - Gang members from the Kingdom of ASPI, a non-existent state in the Caribbean Sea, were detained in St. Petersburg for sellingpassports and driver's licences to migrant workers for three years, Crime Russia says.
All four 'diplomats' of the non-existent kingdom were detained during the special operation held by the interior ministry, Forpost says.
The investigation established that the ringleader of the gang and his assistants printed false IDs using computer and offprints, after which they sold them for a large sum to citizens of the CIS countries who came to work in Russia. At the same time, the documents included a note on registration in the cities of Belarus. They took 15,000-100,000 rubles ($265-1770) for it.
An investigation into the details of the incident is underway.
The gang leader, who pretended to be a 'consul', was detained in his house in the village of Slavyanka. Documents (blank forms of passports, more than a hundred photographs of Asian people, equipment and prints of seals) were found there.
Weapons were found in the houses of the "consulate"'s employees and confiscated.