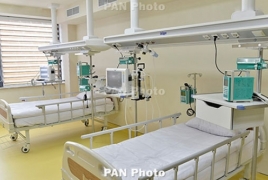 March 7, 2018 - 21:57 AMT
PanARMENIAN.Net - Tuberculosis (TB) may not be a "priority pathogen" for the World Health Organization (WHO)—again—but it certainly remains top of mind for Médecins Sans Frontières (MSF), or Doctors Without Borders.
In fact, researchers working under the auspices of the international nongovernmental organization (NGO), which provides health care services in regions in crisis, have published landmark results of a field study assessing the safety and efficacy of combination therapy with delamanid and bedaquiline (Sirturo, Janssen) in the treatment of drug-resistant (DR) TB. Their findings were published February 13, 2018, in The Lancet Infectious Diseases.
"This was not drug research in the traditional sense, [but] rather pragmatic operational data compiled retrospectively to assess safety and early signs of effectiveness," MSF Operational Research Coordinator Petros Isaakidis, MD, PhD, said, according to Contagion.
"Our clinicians [were] in despair at dealing with DR-TB patients with very limited therapeutic options due to resistance and/or toxicity or intolerability to other drugs. Results from clinical trials using this combination are years away, but our patients can't wait that long. We will continue to follow these patients for the remainder of their treatment in the same way, as well as all new patients started on these drugs, individually and in combination. We are trying to produce more robust, randomized evidence on the use of the new drugs under pragmatic trial conditions."
In all, 28 patients (23 with positive baseline cultures) receiving treatment for DR-TB via MSF initiatives in Armenia, India, and South Africa were administered combination therapy with bedaquiline and delamanid (400 mg bedaquiline qd for 2 weeks followed by 200 mg bedaquiline 3 times per week and 100 mg delamanid bid) and monitored for a 6- to 12-month period in 2016. Notably, 11 of the subjects included in the analysis were HIV-positive and 24 had isolates resistant to fluoroquinolones; 14 had what the authors describe as "extensively drug-resistant tuberculosis."
Of the 23 patients with positive baseline cultures, 17 (74%) tested negative for TB after 6 months of therapy. Of the 5 who were culture negative at the onset of treatment, 4 remained culture negative at 6 months. Overall, 7 of the patients had at least 1 serious adverse event, and a total of 16 serious adverse events were reported, including gastrointestinal disorders (n = 4), nervous system disorders (n = 4), and psychiatric disorders (n = 2). One of the 7 patients died; this patient had disseminated TB and advanced HIV and was not receiving antiretroviral therapy at the beginning of the study.
Per MSF, some 10 million individuals worldwide were diagnosed with the disease in 2016, and more than 500,000 of them had drug-resistant strains.