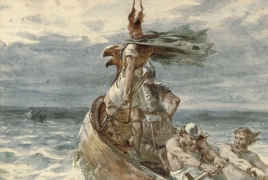 March 12, 2018 - 11:58 AMT
PanARMENIAN.Net - A long lost Viking settlement that featured in sagas passed down over hundreds of years, may have been located on the east coast of Canada, The Independent reports.
Birgitta Wallace, an award-winning specialist in Norse archaeology and Viking evidence in the West, said she had uncovered evidence that the new site known as Hop – meaning tidal lagoon – is in the province of New Brunswick, on the country's east coast.
If she is proved correct, it would be the second Viking settlement to be discovered in North America.
Experts have known from Norse sagas that there was a settlement in North America of 11th-century Europeans, who grew wild grapes, ate salmon and made canoes out of animal hides.
The first site uncovered is at L'Anse aux Meadows, a United Nations (UN) World Heritage site, on the northern tip of Newfoundland.
Over the decades, academics have suggested possible locations where the remains of Hop might be found, including Newfoundland, Prince Edward Island, Nova Scotia, Maine, New England and New York.