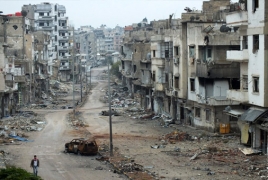 March 13, 2018 - 10:14 AMT
PanARMENIAN.Net - Syria's Permanent Representative to the United Nations Bashar al-Jaafari said that the country "has taken many measures to alleviate the suffering of civilians in al-Ghouta, including the opening of two humanitarian corridors to ensure their safe exit", IRNA reports.
Al-Jaafari made his remarks during a UN Security Council's meeting on the situation in Syria on Monday, March 12.
He added that after the adoption of the UNSC no. 2401, a full and daily cessation of combat activities has come into effect from 9:00 am till 2:00 pm with the aim to deliver humanitarian aid and secure a safe and unhindered evacuation of civilians in areas held by terrorist groups through two humanitarian corridors, in addition to the entry of two convoys of aid from the UN, the International Committee for Red Cross (ICRC) and the Syrian Arab Red Crescent (SARC) to the Eastern Ghouta area on the 5th and the 9th of March.
Al-Jaafari said that those measures "have been impeded by terrorist groups and their operators, some of them members at the Security Council, adding that these terrorist groups have targeted civilians in the capital Damascus with more than 2499 mortar and rocket shells causing the martyrdom of 70 civilians and the injury of 556 others and prevented Syrian civilians in the Eastern Ghouta from leaving the area in order to use them as human shields and a subject of humanitarian blackmail and propaganda, not to mention opening fire at those who succeeded to head towards the corridors."
He indicated that the Security Council dealt with terrorist groups, especially the terrorist Faylaq al-Rahman group which has been hailed by some UNSC member states and presented as a "moderate opposition".
"The Syrian government has also asked the General Secretariat and other humanitarian organizations to dispatch a mission to investigate the humanitarian situation in Raqqa and agreed to send aid convoys to al-Rukban camp on the condition that they should be delivered and distributed by the SARC and the ICRC not the US forces or terrorist groups situated in al-Rukban camp and al-Tanf area," al-Jaafari added.
Last week, the SARC has had the government approval to send aid convoys to al-Ghouta, Raqqa, Afrin and al-Rukban which have not been sent yet due to the UN inability to provide the guarantees required to complete the mission, added al-Jaafari.