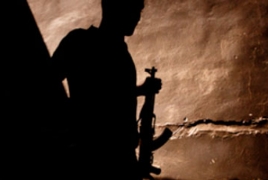 March 14, 2018 - 12:29 AMT
PanARMENIAN.Net - Several hundred gunmen and at least one thousand of their family members have been evacuated from the district of Al-Qadam in southern Damascus, Al-Masdar News says citing reports from semi-official Russian sources.
Some 300 armed gunmen and 'more than 1,000' relatives left the south Damascus suburb for the town of Qalaat al-Mudiq in northwestern Hama province, TASS says.
Qalaat al-Mudiq (for many years an unbreachable rebel stronghold) fully reconciled with the Syrian government less than one week ago following a breakthrough in Russian-mediated inter-faction talks.
The voluntary withdrawal of insurgent fighters from Al-Qadam was part of a deal struck as early as September 2017, but since took six months to realize.
Islamic State forces reacted with an offensive on the district amid the withdrawal of rival militants but were rebuffed by the Syrian army who which assumed control of 70 percent of it following a day of heavy clashes.