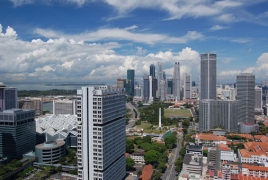 March 16, 2018 - 11:07 AMT
PanARMENIAN.Net - Singapore holds onto the title of the most expensive city in the world for a remarkable fifth year running, according to The Economist's Worldwide Cost of Living Survey 2018.
The report compares more than 400 individual prices across over 150 products and services to provide a ranking of the world's largest cities.
Following Singapure in the list are 10 most expensive cities in the world: Paris (France), Zürich (Switzerland), Hong Kong SAR (China), Oslo (Norway), Geneva (Switzerland), Seoul (South Korea), Copenhagen (Denmark), Tel Aviv (Israel) and Sydney (Australia).
Meanwhile, New York has moved four places down the ranking to 13th position owing to a weakening of the US dollar in 2017, which has also affected the position of other US cities. This, however, still represents a comparatively sharp increase in the relative cost of living compared with five years ago, when New York was ranked 27th.
To determine which cities are costliest, The Economist compared the prices of basic commodities — like the cost of a loaf of bread, bottle of wine, pack of 20 cigarettes, or liter of gasoline — in each.