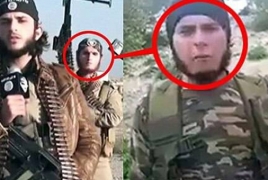 March 17, 2018 - 10:30 AMT
PanARMENIAN.Net - Hundreds of rebel fighters that serve among the ranks of Turkish-backed forces in Afrin (the Free Syrian Army) are reportedly former Islamic State militants, Al-Masdar News reports.
According to sources, the gradual rollback of IS across northern and eastern Syria between mid-2016 to the end of 2017 prompted hundreds of Islamic State terrorists to flee to Turkey via surrendering to Turkish-backed proxy militias in Aleppo province.
Under the control of Turkish military authorities, the fighters were re-flagged and installed into the ranks of pro-Ankara rebel groups such as the Free Syrian Army and Faylaq al-Sham, the news agency says.
Now in the service of the Turkish Armed Forces, the alleged former IS militants are currently battling US-backed Syrian Kurdish fighters in the Afrin region of Aleppo province.
The picture appears to show two photos of the same individual – first as an IS militant, and then a rebel in the service of Turkish-backed forces.