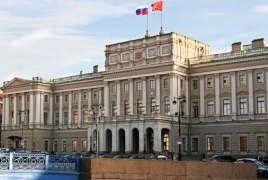 April 3, 2018 - 17:53 AMT
PanARMENIAN.Net - The head of the municipal entity of the Balkan district of St. Petersburg, Saveliy Lebedev, on Tuesday, April 3 visited a woman who survived the terrorist attack in the St. Petersburg metro exactly a year ago.
On April 3, 2017, a terrorist attack involving an explosive device took place on the Saint Petersburg Metro. Seven people (including the perpetrator) were initially reported dead, and eight more died later from injuries, bringing the toll to 15.
Lebedev gave flowers to the St. Petersburg resident and presented her with a package, which apparently contained a gift, Rosbalt reports.
He called the hostess "the birthday girl" and said that he came to "congratulate" her on the anniversary of the attack. She corrected him, noting that she was not a birthday girl, and recalled the sad context of the incident that took place a year ago.
In reply to the woman's words that she is not a birthday girl, and April 3 is the anniversary of a sad event, the official said that he could not stay away: "My grandparents too were in a concentration camp of some kind, so I'm very serious about this whole thing."