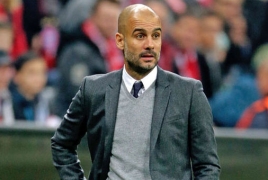 April 7, 2018 - 10:29 AMT
PanARMENIAN.Net - Manchester City boss Pep Guardiola has sensationally claimed that only a few weeks ago he was offered the chance to sign French midfielder Paul Pogba and Armenian playmaker Henrikh Mkhitarayan from Manchester United by their powerful agent Mino Raiola, The Telegraph reports.
The Manchester City manager sarcastically added that he was shocked that Raiola, given the bitter feud between the pair, wanted to move two of his star clients to play for a "dog". "I'm surprised because I am a dog," Guardiola said in reference to the agent's derogatory description of him.
Guardiola's revelations, on the eve of the Manchester derby, a highly-charged derby in which City can win the Premier League title, are extraordinary and will also re-open his sulphurous dispute with United manager Jose Mourinho.
Suggesting that Pogba, and with Mkhitaryan sold to Arsenal in January, wants out of United will infuriate Mourinho who has been dealing with constant questions over the £89 million record signing's performances, state of mind and, above all, his relationship with him.
Guardiola made his amazing claim after being asked whether the United manager, given the fierce history between the two, was still his "big rival". "I have many (rivals)… especially agents," Guardiola responded. "I have a lot. I am a big boss. I'll give you a huge list of my big rivalries, believe me."
Mkhitaryan left United in the January window as part of the deal that took Arsenal's Alexis Sanchez to Old Trafford.
Eager to make an early impression at the Emirates Stadium, the 29-year-old assisted three goals on his home debut against Everton as Arsene Wenger's men obliterated the Toffees 5-1.