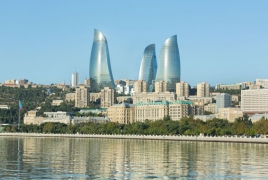 April 12, 2018 - 19:11 AMT
PanARMENIAN.Net - Supporters of Azerbaijan's president forced election monitors to halt a news conference on Thursday, April 12, where they were announcing they had found the election that gave Ilham Aliyev a fourth term undemocratic, Reuters reports.
Members of Aliyev's New Azerbaijan Party and pro-government journalists banged on the table where observers from the Organisation for Cooperation and Security in Europe (OSCE) were trying to speak, and shouted that their report was biased.
The news conference on the credibility of Aliyev's landslide re-election was suspended and resumed later.
At the news conference, Aliyev's supporters shouted: "Your report was prepared in advance to please Armenians".
The OSCE said Wednesday's vote had taken place "within a restrictive political environment and under laws that curtail fundamental rights and freedoms, which are prerequisites for genuine democratic elections."
Viorel Riceard Badea, head of the delegation from the Parliamentary Assembly of the Council of Europe, said: "We have to consider that, in a political environment where democratic principles are compromised and the rule of law is not observed, fair and free elections are not possible."
Aliyev, 56, won with more than 86 percent of the vote at an election boycotted by opposition parties which accuse him of authoritarian rule and suppressing political dissent, something he denies.
First elected in October 2003, two months before the death of his father, Heydar Aliyev, who ruled for 10 years, Ilham Aliyev was re-elected in 2008 and 2013 - all votes that international observers said fell short of democratic standards.
Aliyev has cemented his position with two referendums, one in 2009 that scrapped a two-term presidential limit and another in 2016 that extended the presidential term to seven years from five. He appointed his wife Mehriban first vice president, the second most powerful post after the president, in 2017.
Monitors reported "widespread disregard for mandatory procedures, a lack of transparency, and numerous serious irregularities, including ballot box stuffing," in Wednesday's election, adding: "in the absence of pluralism, including in the media, the election lacked genuine freedom."
Opposition parties called the vote a "show".
"We don't recognise the election results and call for a transparent election," Arif Gajily, head of the Musavat Party, told a news conference.
Seven candidates ran, but critics questioned whether they were actual opponents. Two of them voted for Aliyev, news website Yenicag.az reported.