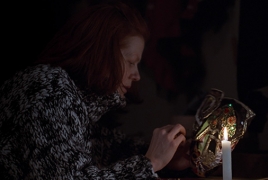 April 14, 2018 - 11:26 AMT
PanARMENIAN.Net - The film "Hot Country Cold Winter" by Armenian director David Safarian won the Grand Prize in the Narrative Feature category of the Socially Relevant Film Festival New York.
The 105-minute movie centers around a man and a woman suffering the circumstances of a total energy crisis. Their recollections, short narratives, imagination act as aids in understanding of the story, and in understanding that core human values are shared throughout the world.
Co-produced by Armenia, the Netherlands, Germany and Russia, "Hot Country Cold Winter" stars Yana Drouz, Ashot Adamyan, Heghine Hovhannisyan, Karen Janibekyan, Vigen Stepanyan, Harutyun Movsisyan, Hrachya Harutyunyan and many others.
"On the surface it is a story of a man and a woman from artistic circles who are suffering through circumstances of a total winter energy crisis," the Golden Globe Awards said in an article published on its website back in 2016.
"But in some ways this is merely a pretext to delve deeper into the problem of an artist living through hard times. Their recollections and their imagination are used here to help understand not only the story as such, but to appeal to core human values which are universal."
"Hot Country, Cold Winter" was an official selection for the main competition of the 2015 Tallinn International Film Festival in Estonia.