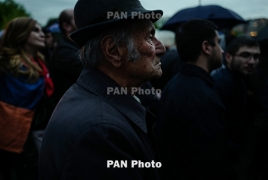 April 16, 2018 - 13:39 AMT
PanARMENIAN.Net - The Armenian Opposition closed several streets of Yerevan hence protesting against Serzh Sargsyan's candidacy of becoming the new Prime Minister of Armenia, Russian TASS reports.
"We have started the demonstration of protest. I encourage everyone to lie down in front of the vehicles, close the streets, avenues and metro. Those who are against Serzh Sargsyan becoming the Prime Minister should come together in Baghramyan Avenue in front of the parliament", Member of "Civil Contract" party, Nikol Pashinyan stated.
The source states that on April 16 morning the Armenian police made an announcement that "all the activities are illegal and are limiting the free transportation of the citizens". Meanwhile the forces are abstaining from taking any serious actions.
In addition, Iterfax reports that streets and crossroads are closed all over the city center and conflicts happen between the drivers and protesters from time to time. It is stated that the police started dispersing the protestors.
Moskovskij Komsomolets reports that the activists left their vehicles with signals on and lied down in the middle of the streets. It is also stated that Nikol Pashinyan announced that his supporters should come together in the Baghramyan Avenue next to the parliament building. Meanwhile the police forbid the protesters to come close to the building.