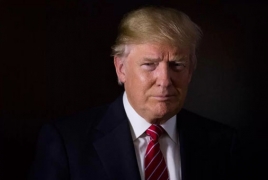 April 17, 2018 - 13:21 AMT
PanARMENIAN.Net - As reported by the Washington Post, the White House said on April 16 that President Trump still intends an early exit for U.S. troops in Syria, as French President Emmanuel Macron attempted to walk back his suggestion that he had convinced Trump to keep them there for the "long term."
The United States, France and Britain have all offered official justifications for their joint military strike on Syrian chemical weapons sites over the weekend and their own versions of what it means for Syria's civil war.
In London, British Prime Minister Theresa May rejected criticism that she acted on Trump's "whims" and said that her decision to send Royal Air Force warplanes to attack Syrian targets was not done as a favor to the president.
Macron and Trump also have cited the preservation of international law against the use of chemical weapons, although Trump has said his constitutional powers to protect "U.S. interests" provided authority to order the strikes without congressional consultation.
Meanwhile Trump remains unpopular in Britain and France. Both Macron and May are anxious not to appear subservient to the president, even as they try to convince him of the value of their alliance.
That value, they hope, will pay dividends next month, when Trump must decide whether to drop out of the Iran nuclear deal to which all of them — along with Germany, Russia and China — are signatories.