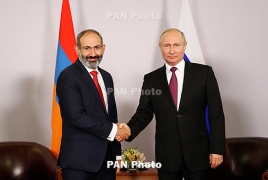 May 14, 2018 - 15:20 AMT
PanARMENIAN.Net - Russian President Vladimir Putin expects that under the new Armenian government relations between Moscow and Yerevan will continue to develop just as robustly as before, TASS reports.
"I want to wish you success as the head of the government and hope that our relations will develop as progressively as before," Putin said during his first meeting with Armenia's new Prime Minister Nikol Pashinyan.
The Russian president stressed that Moscow "views Armenia as its closest partner and ally in the region" in terms of both economic cooperation and security issues.
Putin voiced hope that "very good results" of Russian-Armenian economic cooperation will multiply.
The Russian president recalled that Russia remains Armenia's leading trade and economic partner, which accounts for more than 25% of the country's trade turnover and Russia's investments reach 35% of all investments in Armenia's economy.
Putin assured Pashinyan that Moscow will continue active cooperation with Yerevan on the international arena, in international organizations, including the United Nations, where Armenia and Russia have always supported each other.
Pashinyan confirmed, in turn, that Russia and Armenia are strategic partners: "We are determined to give a new impetus to these relations in political, as well as trade and economic areas." He also expressed hope to develop military and technical cooperation with Russia.
Pashinyan stressed: "We highly appreciate the balanced position which Russia showed during our domestic political crisis." "This was a very constructive position. I think both our government and the Armenian society in general value this."
Pashinyan, the leader of the Armenian opposition, was elected Armenia's prime minister on May 8. After the vote, Armenia's ruling the Republican Party said it was going into opposition and rejected all posts in the Pashinyan government.