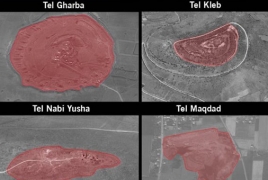 May 14, 2018 - 16:45 AMT
PanARMENIAN.Net - The Israeli Air Force hit multiple targets in Syria late last week in what it said was a 'retaliatory' measure amid an alleged Iranian military buildup in the Arab Republic.
The images provided by satellite imaging company ImageSat International (ISI), yet to be independently verified, offer an overview of some of the damage caused by Israeli bombing of what are claimed to be Iranian military positions, Sputnik reports.
ISI's 'preliminary damage assessment' seemingly shows destruction at the Damascus International Airport, including the ruins of a 30×15 meter storage structure. Satellite images also show an evacuated 'Glasshouse', the nickname for what Israeli analysts claim is Damascus-based headquarters for Iran's military operation in Syria.
The satellite images follow the release of aerial images by the Israeli Defense Forces of what it claimed were "Iranian sites in Syria."
Israel launched a massive airstrike against what it said were 60 'Iranian' military targets in Syria late last week, calling the measure retaliation for the firing of nearly two dozen rockets into the Israeli-occupied Golan Heights. According to Israeli media, none of the rockets reportedly made it into Israeli territory. According to the IDF, all the targets in the May 10 attack consisted of Iranian Revolutionary Guard Corps' Quds Force troops.
According to the Israeli military, its targets included intelligence, logistics and weapons storage facilities, a military compound, as well as targets in the buffer zone (i.e. the territory between Israeli and Syrian forces) along the border between the two countries.
Tel Aviv has accused Tehran of expanding its military presence in Syria as a means to threaten and stage attacks against Israel. Iran has denied that it has an extensive military presence in Syria, saying its contingent is limited to military advisers, who are in the country to help the Syrian army ongoing fight against terrorism. The Iranian mission has the approval of Syria's internationally recognized government.
Conflicting reports have emerged regarding the effectiveness of the Israeli Air Force's attack. According to the Russian military, Syrian air defenses downed "over half" of the missiles launched by Israeli F-15s and F-16s. For its part, the Russian foreign ministry has voiced its concern over the Israeli attack, and called on all sides to exercise restraint.