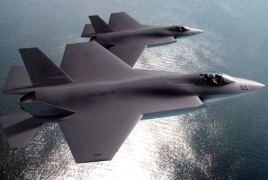 May 18, 2018 - 10:18 AMT
PanARMENIAN.Net - A new bill proposed in the U.S. House of Representatives calls for stopping the proposed sales of more than 100 F-35 fighter jets and related intellectual property to Turkey, Congressman David Cicilline said in a press release, according to Sputnik Intenational.
"Cicilline is introducing the bipartisan Ban F-35 Joint Strike Fighter Sales to Turkey Act today," the release said on Thursday. "The Ban F-35 Joint Strike Fighter Sales to Turkey Act prohibits the sale or transfer of F-35 aircraft and any related intellectual property or technical data to Turkey."
The ban, the release added, can only be lifted if the White House can certify that the Turkish government is not undermining NATO and is not unlawfully jailing U.S. citizens, among other conditions.
"We cannot turn a blind eye to Turkey's thuggish, reprehensible behavior," Cicilline, who serves on the House Foreign Affairs Committee, said. "It's important that we hold NATO members to the same standard we would hold any other country."
He added that banning the sale of the F-35 to Turkey "is just common sense." The bill has been referred to the House Foreign Affairs Committee. According to the release, the relationship between the U.S. and Turkey has become strained in recent months due to alleged human rights violation by the Turkish regime, led by President Recep Tayyip Erdogan. The regime has been accused of cracking down on dissent and free speech.
In mid-April, Assistant Secretary of State for European and Eurasian Affairs Wess Mitchell said Ankara's purchase of the S-400 air defense missile systems from Russia could negatively affect the delivery of the fifth-generation F-35 fighter jets to Turkey.