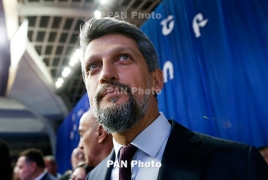 May 19, 2018 - 14:50 AMT
PanARMENIAN.Net - Turkish-Armenian lawmaker from the Peoples' Democratic Party (HDP) Garo Paylan, who is under investigation for "insulting Turkishness," says has always recognized the great catastrophe that the Armenians experienced in the Ottoman Empire was Genocide.
The Justice Ministry of Turkey granted permission for the Ankara Prosecutor's office to conduct an investigation over an interview Paylan gave while visiting Canada.
In case the charges are confirmed, the member of the Grand National Assembly may be stripped of parliamentary immunity.
In the interview he gave on May 1, 2017, Paylan spoke about the Armenian Genocide, the murder of Turkish-Armenian editor Hrant Dink, the failed coup and the president Recep tayyip Erdogan's policy.
"I have always recognized that the great catastrophe my family and my people experienced was genocide," Paylan said, according to the Turkish-Armenian newspaper Agos.
"I have never targeted the Turkish people but the junta that perpetrated the genocide at the time and the mentality of genocide."
Paylan has been vocal about the plight of Armenians in Turkey and the overall human rights situation in the country.
When in Canada in May 2017, the lawmaker held a series of meetings in Ottawa and Montreal with Members of Parliament and various current and former Canadian officials
He provided an overview of the current political climate in Turkey, the aftermath of the constitutional referendum and the ongoing uncertainty and concern regarding the rights and freedoms of the minorities living in Turkey. He stressed the importance of acknowledging history, specifically in regards to the Armenian Genocide, stating, "unpunished crimes lead to new crimes."