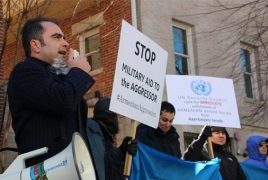 May 24, 2018 - 17:54 AMT
PanARMENIAN.Net - The Azerbaijani Laundromat — a set of intertwined bank accounts used as a slush fund by the country's elite to buy luxury goods, pay off European politicians, and launder money — also included payments to an individual working to influence American policy in the interest of Azerbaijan, an OCCRP analysis of the data shows.
Overall, some €2.5 billion (US$ 2.9 billion) flowed through the Laundromat between 2012 and 2014. The Organized Crime and Corruption Reporting Project (OCCRP) and partners first revealed the scheme last September. A portion of the money was used to advance the Azerbaijani government's political agenda, with some ending up in bank accounts belonging to European politicians who spoke highly of President Ilham Aliyev's authoritarian regime even as it arrested journalists and opposition activists.
As it turns out, another recipient of Laundromat money — to the tune of a quarter million dollars — was an influential American oil and gas consultant of Azerbaijani origin who worked to influence US policy in his native country's favor.
Adil Baguirov, a business owner based in Dayton, Ohio and a vocal member of the Azerbaijani diaspora, received the $253,150 transfer just months after a non-profit organization he runs, the Houston-based US Azeris Network, helped host a conference in Baku, Azerbaijan's capital, that was attended by 10 members of Congress. The junket was widely criticized, and investigated by the House Ethics Committee, for being secretly funded by Azerbaijan's state oil company.
A separate series of payments from the Azerbaijani Laundromat went to Renaissance Associates, an organization based in Baku that contacted a Virgina-based lobbying firm to lobby the US government on its behalf.
The precise origins of the money Baguirov received are unknown, hidden behind secretive shell companies. But there is ample evidence that the authoritarian country's ruling elite is behind it.
Baguirov's Washington lobbying in the interests of Azerbaijan goes far beyond the 2013 conference. He has also helped organize other US-Azeri conferences in Washington, repeatedly testified before the House in favor of US military aid to Azerbaijan, served as the coordinator of the Congressional Azerbaijan Caucus, and worked prominently in a Houston-based company that claims to have organized a trip by the country's president, Ilham Aliyev, to the White House.
Between 2008 and 2016, Baguirov was also invited almost annually to recommend foreign economic and military aid budgets for Azerbaijan and Armenia to the House Appropriations Subcommittee on State, Foreign Operations and Related Matters. In some years, other representatives of USAN and the Karabakh Foundation — another of Baguirov's non-profit organizations — also testified.
The transcripts of his testimonies show Baguirov acting as a counter to Armenian interests in Washington (the two countries are fierce rivals over Nagorno Karabakh). When he first testified in 2008, he recommended greater equity between aid given to the two countries, but by 2012, he was calling for aid to Armenia to be reduced to zero, while requesting $26 million from USAID and $3.9 million in military aid for Azerbaijan.
Protesting the State Department's proposed budget for the financial year 2014, he claimed that "someone" had "twisted and changed the spirit" of the United States' "neutral" position. USAN publicly accused Armenia that year of providing the Committee with "false or exaggerated information, whilst asking for tens of millions of dollars in taxpayers' money" through its "paid representative of the Armenian lobby." Throughout his testimonies, Baguirov has remained silent on the Azerbaijan government's notoriously poor human rights record.