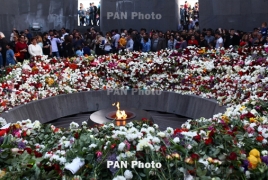 May 26, 2018 - 13:29 AMT
PanARMENIAN.Net - Lawmakers across the Israeli political spectrum called on the government not to heed Turkey's threats to Israel over the possibility that the Knesset will recognize the Armenian Genocide, The Jerusalem Post.
Turkish Foreign Ministry Spokesman Hami Aksoy said Friday, May 25 that "the fact that Israel is putting the events of 1915 at the same level as the Holocaust in World War II will lead it to hurt itself,"
The comment came two days after the Knesset voted to add a motion to the agenda to discuss recognizing the Armenian Genocide during World War I, in which the Ottoman Empire killed an estimated 1.5 million Armenians. The Knesset is expected to vote on recognition on May 29. In addition, Shmuly and Likud MK Amir Ohana submitted a bill to a similar effect.
Contrary to Aksoy's statement, the major proponents of recognition in the Knesset did not use the term "holocaust" in their related speeches and legislation; they called it a "genocide" instead.
Ohana accused Turkey's Foreign Ministry of "cynically and transparently using the word Holocaust to try to cheapen the severity and uniqueness of the Holocaust of the Jewish people."
"I and my friend MK Shmuly intentionally avoided using that term," Ohana added. "The Armenian Genocide, the term we chose to use, is a catastrophe in and of itself. It's clear that recognizing history is uncomfortable for Turkey, but just because it doesn't like the past doesn't mean it can be erased or twisted."
Responding to Aksoy, Shmuly said: "1.5 million Armenians were slaughtered by the Turks in death marches, with gas and in concentration camps, and if we deny history, it can repeat itself over and over again. The Jewish people especially cannot do this."
Shmuly added that he "hopes Netanyahu and his government have no intention to fold before [Turkish President Recep Tayyip] Erdogan who bombs innocent civilians and dares to preach morals."
The issue of recognition of the Armenian Genocide by Israel is first and foremost their contribution to the prevention of genocides, Armenian Foreign Minister Zohrab Mnatsakanyan told reporters on Friday.