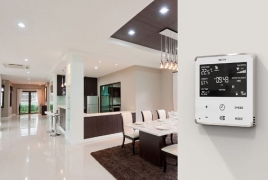 May 29, 2018 - 11:54 AMT
PanARMENIAN.Net - An Armenian company specializing in the production of Smart Home systems, Heltun has delivered the first batch of products to Europe.
The first 1000 made-in-Armenia devices were sold to three large distributors in Scandinavia, Europe and Russia.
According to Founder and CEO Ashot Mashuryan, their products are among the very few hardware-engineered products manufactured in Armenia.
"Armenia has already proved itself as an exporter of quality software to the world market," Mashuryan said.
"Although we could have produced our products in China and Europe, it was very important for us to do it in Armenia. This proves that high quality hardware can be successfully designed and manufactured in our country too."
The first deliveries from Heltun include smart thermostats, which allow to save up to 50% of energy required for heating and conditioning of homes and offices, as well as wall touch panels, enabling the control of lighting, curtains, blinds, windows, doors, locks and other powered products.
It is worth noting that the entire systems can be controlled remotely through a smartphone or a tablet.
Mashuryan added that the company has developed more than 10 different products which will be unveiled over the next months.
He said he is planning to produce up to 10,000 units and increase the factory workforce by up to 30 people next year.
Smart Home is a complex of solutions for the automation of everyday activities, which can control everything taking place at home or in the office. The control of lighting, climate, windows, curtains, doors and locks, advanced security systems, multimedia systems (TV or audio/video ) and others can be managed by smart phone and voice commands. This is a high-tech system, enabling the integration of all utility systems into one network, which can be placed under the control of artificial intelligence, programmable and customizable to all the specific needs and requirements of the owner.
In 2016 the global market of smart home systems amounted to $24 billion and the growth of the market is predicted to amount to $53 billion by 2022.